Click photo(s) to enlarge




| | |
| --- | --- |
| Ad #: | 25176 |
| Price: | $11418.4 |
| Year: | 2020 |
| Size: | 3 H |
| Make: | Bee Trailers |
| Model: | 3 Horse Bumper Quest |
| Stock #: | |
| Serial #: | |
| Sale Type: | New by Dealer |
| Color: | White |
| Axles: | 2 |
| Hitch: | Bumper Pull |
| Side Door: | 1 |
| Rear Opening: | Ramp |
| Condition: | New |
| Warranty: | Factory Warranty Included |
| Availability: | Available for Order |
Features:
Interior Light(s), Roof Vent(s), Brakes
Description:
6'8 Bee 3 Horse Bumper Quest.

The price above is for Georgia factory pick up only.

Don't want to drive all the way to Georgia? Have us deliver your trailer to you. We can deliver the trailer to your home, work, anywhere with our wholesale shipping.

We can even meet you half way and save half on shipping charges.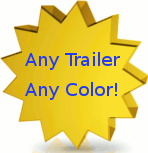 Colors at an additional cost

3 Horse Bumper Quest

17' long x 6'8" wide x 7' high - 2' x 6-1/2' Dressing room - Full swing rear door - Drop feed doors on left side
Features:
•17' Long X 6'8" Wide X 7' High
•A-60 Auto Grade Galvannealed Sheets
•Diamond Gravel Guard Under Nose & Fenders
•V-Front with 2 Windows
•Front Dressing Room with RV Vent & Steel D/R Door on RH Side
•Brush Tray & Shelf with Clothes Bar in D/R
•Stall Mat on Floor in D/R
•Dome Light in D/R and Horse Area
•Steel Lined Walls with Mat on Right Left Walls
•Stall Mat on Floor in H/A
•Full Swing Rear Door with Top Panel at Rear
•#575 Feed Doors at Each Horse on LH Side
•60" Solid Sides with 2 Openings on RH Side
•Padded Butt Chain at Load Door
•Tack & Tie Hooks - Slam Latches on Dividers
•No Two Way Vents
•Rubber Rear Bumper
•Breakaway Kit & Safety Chains
•6.0K RR Brake Axles
•225 x 15" Radial Tires, 5 Year Rust Warranty

BEST GALVANNEAL TRAILER ON THE MARKET FOR THE MONEY!!!

*FACTORY PICK UP PRICE IN GA.*

GREAT PRICES ON ALL OPTIONS

Options Available:

•Extra Length
•Walk Thru Door From D/R to H/A
•Spare Tire
•Rear Ramp with Removable Top Doors
•Side Escape Door
•Lexan Installed on RH Side & Rear Gate


Also Available in a 2 Horse Model:

8195.00 FACTORY PICK-UP OR MARIANNA PICK-UP

8595.00 FT. MYERS PICK-UP


Please call one of our Florida Locations for more details:

Ft Myers 800-897-4430
Marianna 888-767-4275

Visit our website @ www.tropictrailer.com