Trailers for sale by
Georgia Made Trailers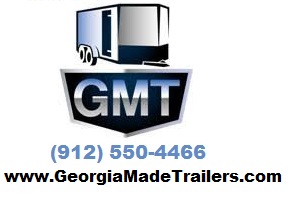 It is easy and convenient to purchase one of our great trailers and get a great deal!

Georgia Made Trailers, through agreements with some of the south's best trailer manufacturers is able to bring to you factory direct pricing and convenience! We are your direct factory liaison with the manufacturers. All of our enclosed trailers are manufactured with American Made Products. If you choose to order your Cargo Trailers Online, You have found the right place.

Just order your NEW trailer from us, and when it is complete, pick it up directly at the factory where it was produced. Or, you can arrange for your own shipping of the trailer directly to you! Your trailer will be built specifically for you! You don't have to take the leftovers on some parking lot somewhere. Instead we take your order for your NEW Trailer and have it built fresh and new with your name on the order!

Most trailers can be completed and ready to pick up in just 2 to 3 weeks. Highly customized or intricate special ordered trailers may take a little longer. If you need a trailer right now, we always have a variety of cargo trailers available. Just give us a call or look on the available Inventory page listed above, or we have a sister company that usually has "in stock" trailers available and we can get you in touch with them immediately. However,they do NOT have the discount power of Georgia Made Trailers so their pricing may be a little higher.