Installing A Brake Controller on a Vehicle with a Factory Towing Package & 7-Way Connector
Installation made simple
Installing a brake control unit isn't very difficult. This task is made even easier if your tow vehicle is a late model and comes with a 7 Way Connector as part of the towing package.
In this case, installation is as simple as mounting the brake controller in a convenient, easy to reach place, usually under the dash, just above your right leg and connecting the wires from the brake control to the wiring harness and then plugging the harness into the harness located under the dash.
Most newer vehicles equipped with towing packages are now providing a wiring harness which looks similar the ones in the picture below depending on the make of your vehicle: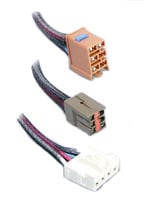 Again, most vehicle manufacturers are supplying the harness now a days, especially if the towing package includes a 7 way connector.
If your vehicle did not come with one, your dealership may give you one or you can purchase them inexpensively online.
Most if not all brake controllers come with a four wire configuration. You can't tell from the picture at the left, but the harnesses in the picture all have four wires.

Once you have the brake control mounted under the dash, you'll need to find vehicle harness that the brake controller harness plugs into. These are usually found under the dash on the driver's side.
GM/Chevrolet
GM vehicles have a harness panel located on the driver's side towards the top left. Simply remove the cover and plug the harness into the slot shown in the picture below: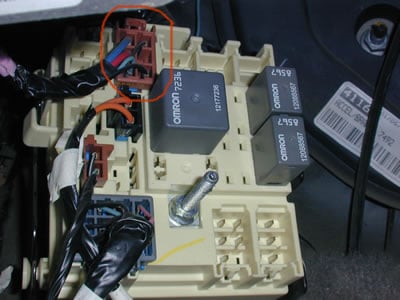 Dodge
Dodge vehicles, unlike GM vehicles, have an independent and movable wiring harness. On some dodge vehicles, the harness is found loosely stuffed under the dash above the driver's right leg. And on others, it can be found attached to a module above the driver's left leg.
The harness is often blue as shown in the picture below: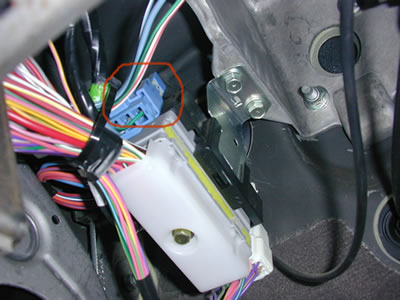 Also shown in the picture above, is an instance of the dodge harness attached to a wiring module as opposed to finding it loosely stuffed under the dash.
Ford
Ford's factory supplied brake control harness end can also be found loosely stuffed under the dash, usually just above the driver's right leg.
A ford harness is shown below: